All about the Urbanrise On Cloud 33

Project location
Urbanrise "On Cloud 33" located at the thriving Bachupally, the hotspot for real estate development in the city, enjoys a great location advantage. The excellent social infrastructure around this place makes for an ideal residential locality, and the proximity to the three prominent locations namely, Hitech City about 25 mins away, Gachibowli about 30 mins away and Kondapur about 20 mins away works majorly in favour of settlement here. Excellent connectivity facilitated by well-connected roads (ORR is reachable within 15 mins and JNTU is reachable within 15 mins) and established metro service (Miyapur Metro Station is just 12mins away) makes it the ideal location for professionals with reduced commute time and easy transportation.
Perfect social infrastructure for happy living
The neighbourhood of these alluring apartments for sale in Bachupally consists of good social infrastructure with prominent schools, hospitals, banks, malls and entertainment arenas.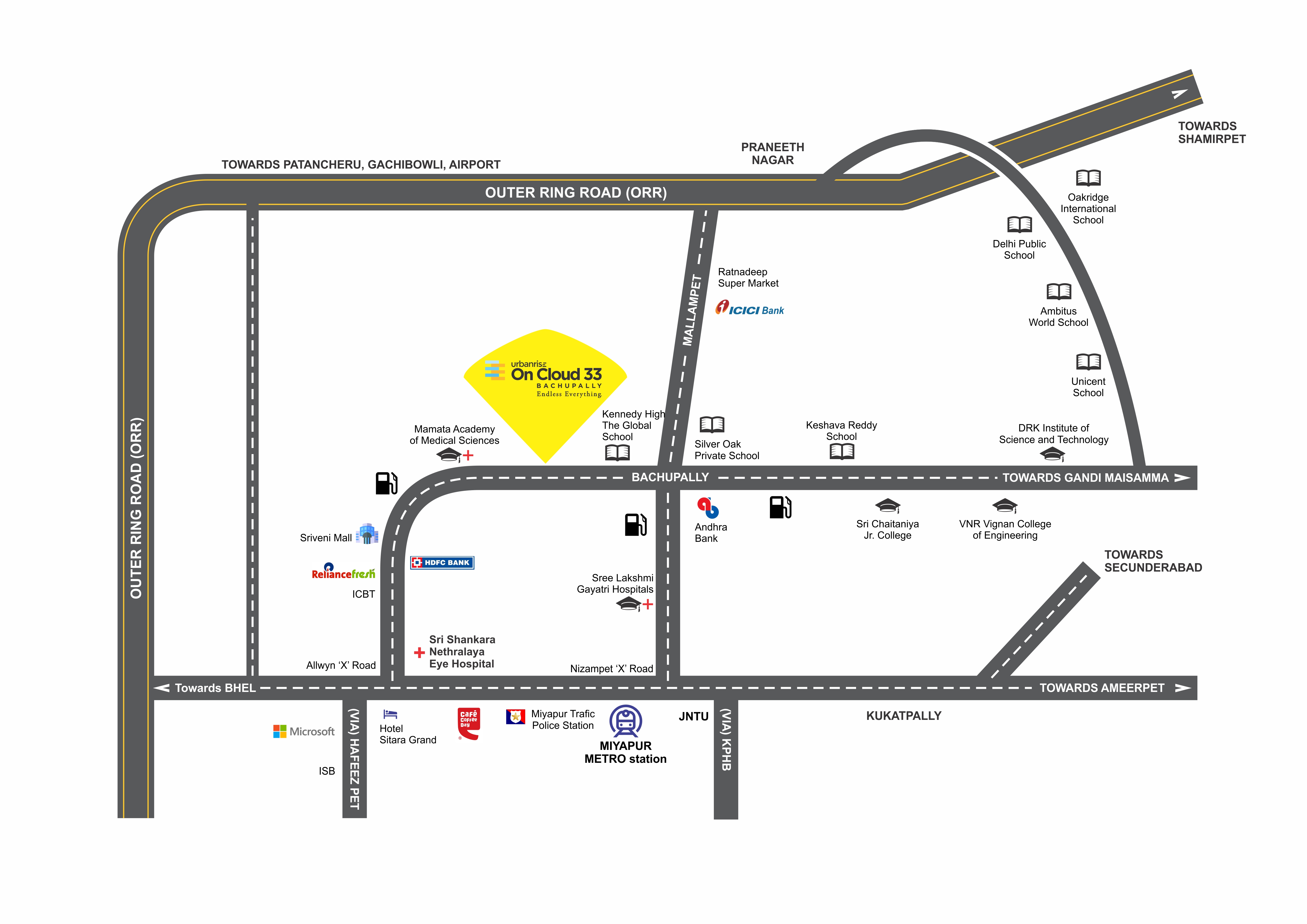 Some of the famous educational institutions located nearby include Kennedy Global School, located practically next door, Sliver Oaks School about 2 mins away, and other schools in the vicinity are Creek School, Ganges Valley School, Oakridge International School, Delhi Public School and Unicent School about 12 mins.
Mamata Academy of Medical Sciences is a stone's throw away from these majestic apartments in Bachupally, SLG Hospital can be reached within 5 mins, and other famous hospitals in proximity are Rainbow Hospital, Apollo Hospital and Care Hospital in 20 mins.
Manjeera Mall, Asian GPR Mall are reachable within 15 mins, Sujana Forum Mall, AMD Mall, In Orbit Mall and Ikea Mall are the other notable malls in the vicinity
The amiable neighbourhood of these beautiful apartments for sale in Bachupally is the ideal one for a life of convenience.
Exploring the endless possibilities at "On Cloud 33
The Premium 2,3,4 BHK apartments at Urbanrise "On Cloud 33" are designed incorporating class elements of style and modern touch to offer the perfect homes for the Next Gen home buyers. Equipped with a plethora of amenities originating from innovation and a deep understanding of the needs of present-day living, Urbanrise "On Cloud 33" emerges as a world that consists of every facility that one can attribute to a life of convenience, comfort and luxury. Built with different sq.ft., area, layout and design the Vaastu compliant 2,3,4 BHK apartments are constructed with optimal utilization of space, better provision for ventilation and privacy.
The royal clubhouse, the cynosure of all eyes, offers residents the lifestyle that befits the nawabs. Designed and constructed thoughtfully for the Next Gen home buyers, the clubhouse brings multiple elements like grandeur, an alluring ambience, and fine lifestyle amenities like an indoor gym, board games, swimming pool, cafe shop, supermarket, salon, beauty parlour, coworking spaces, and other thoughtfully created amenities that make each day a celebration.
A rainbow of newage amenities like Amphitheatre, senior citizen hangout area, ladies kitty-corner, zero gravity yoga space, community kitchen, sunken lounges, all within the safe confines of the Gated community offers a great platform for leading a healthy and happy life with social bonding in a stress-free atmosphere. As a brainchild of out-of-the-box thinking, "Cloud 33" offers umpteen innovative rooftop facilities like breathtaking sky lounges, two of those in each tower, rooftop facilities like barbeque corners, gaming zones, and coworking spaces, unravelling a new world of luxury and recreation.
Urbanrise Genius
The thoughtfully constructed flats for sale in Bachupally offer a unique and specially created children's learning Hub, Urbanrise Genius, that offers professional and highly focused training in academics and extracurricular activities like singing, dancing, cookery, arts and crafts, and more. With no painful time and cost consuming commute to distant tuitions, and huge expenses on travel, or concerns about the safety of the kids, Urbanrise Genius offers the best coaching within the safe confines of the Gated Community. The talent development hub would prove to be a boon for the parents for it offers creche and daycare services, thereby helping the parents focus on their work at the office without the concerns of safety of the children, and helps them strike a perfect balance between their work commitments and their duties as caring parents.
Located in a place of absolute convenience and equipped with multiple modern lifestyle amenities and facilities developed with a deep understanding of the needs of NextGen home buyers, Urbanrise "On Cloud 33" truly offers a world where fairy tales come true.